"Let's put a smile on that face!"
―Thanos

Thanos likes to kill things and make them dead. Little is known about him because he has gotten no screen time yet. He has an obsession with his rock candy collection and will do whatever it takes to complete it, including getting his Lucky Golden Glove to bitch slap some bitches.
Biography
The Avengers
He Smiles.
Guardians of the Galaxy
He threatens the blue bad guy.
Avengers: Age of Ultron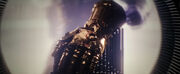 He finally gets off his ass.
Avengers: Infinity War
He comes to Earth.
Personality
We'll let you know if he ever gets one!
Powers & Abilities
Powers
Bitch Slappin' (via Infinity War trailer)
Sitting
Smiling
Abilities
Fisting (via Infinity War trailer)
Teleportation (via Infinity War trailer)